How to be a 'Best Dressed Wedding Guest' The Royal wedding had me glued to my TV screen a couple of weeks ago as it was so wonderful to see so many of the guests arriving at St George's Chapel at Windsor Castle for the ceremony in vibrant colours and beautiful styles.
I hope you were doing the same.
Not everyone was though, I had to smile when a totally confused Male guest told me "the TV was on in the airport and everybody was watching it even though the ceremony hadn't started…." yee Gods, slaps forehead etc 🙂
Colour Inspiration
From Amal Clooney in head-to-toe daffodil yellow, to Harry's ex. girlfriend Cressida Bonas in multi-coloured stripes, the new Duke and Duchess' guests certainly put on a colourful show. Here's my take on the colours you should be wearing for that special occasion this Summer to ensure that you also make the best dressed wedding guest list.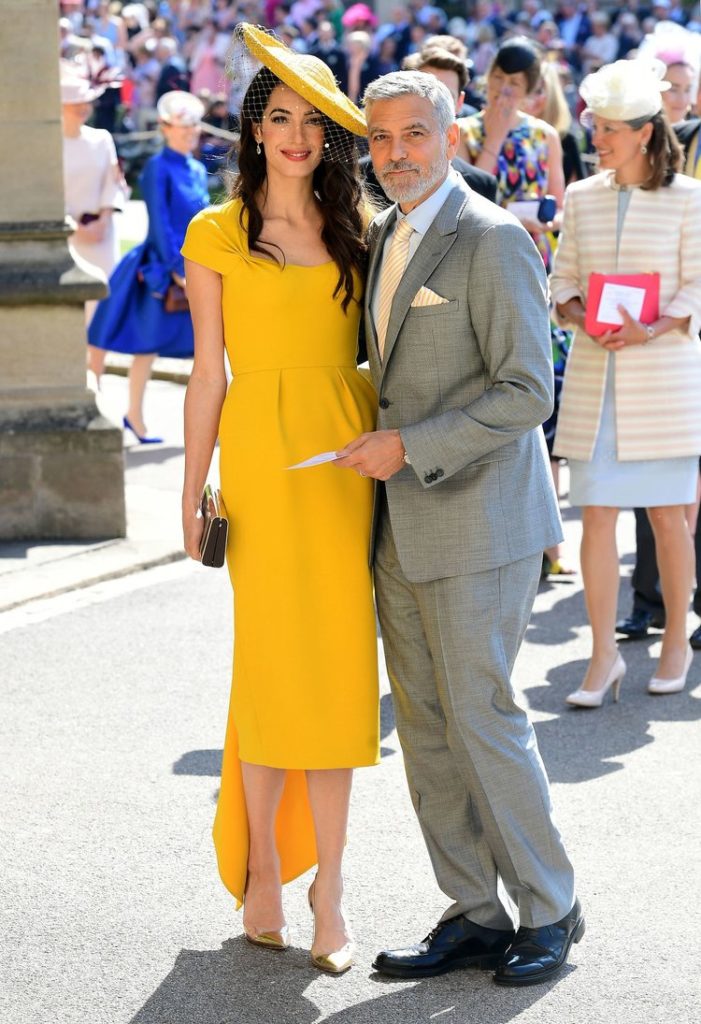 Let's start with Amal's show-stopping Stella McCartney ensemble. A similar shade will work for you if you fall into the DEEP and WARM, CLEAR and WARM or WARM colour categories. You could go for gold with this Bay Bow Dress by Coast.
If you choose this look, however, you might want to co-ordinate yourself with a better dressed 'Other Half' because this one looks like a wet rag, even if he did manage to co-ordinate his tie! Gentlemen, if you want to know what to wear, check out the etiquette for dressing for all occasions, but in this case, for meeting the Queen, from Debretts.
The Mother of the Bride, Doria Ragland stood out for her understated elegance in Mint Oscar de La Renta. This delicate shade will work beautifully for you if you fall into the LIGHT or COOL colour categories. This elegant dress from Phase Eight sets just the right tone for a Spring / Summer wedding.
Neckline and busts
I'd look fabulous in it but a high neckline isn't great if you have a big bust, it tends to accentuate them make you look wider and therefore heavier than you really are. Evidently some stylists to the rich and famous hadn't heard this one.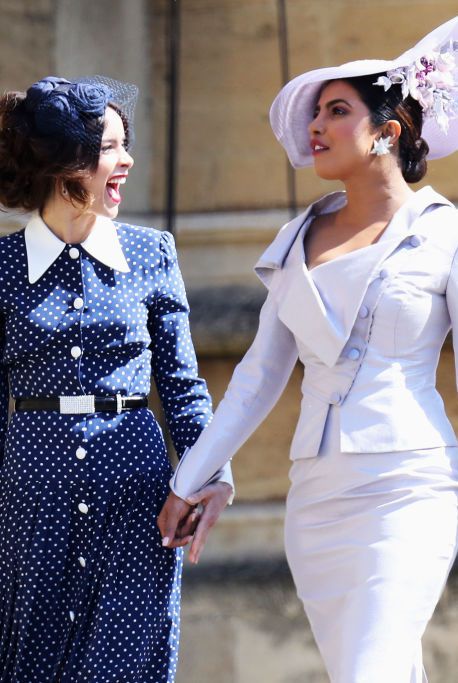 Suits actress Abigail Spencer went for a retro look with her Alessandra Rich blue polka-dot dress, complete with a cinched-in waist and demure midi-length style.
Polka dots are a key trend for Spring / Summer and this Michael Kors dress is a classic cut which will flatter an hourglass body shape beautifully. Navy is always a good colour choice because there's a perfect shade for every colouring.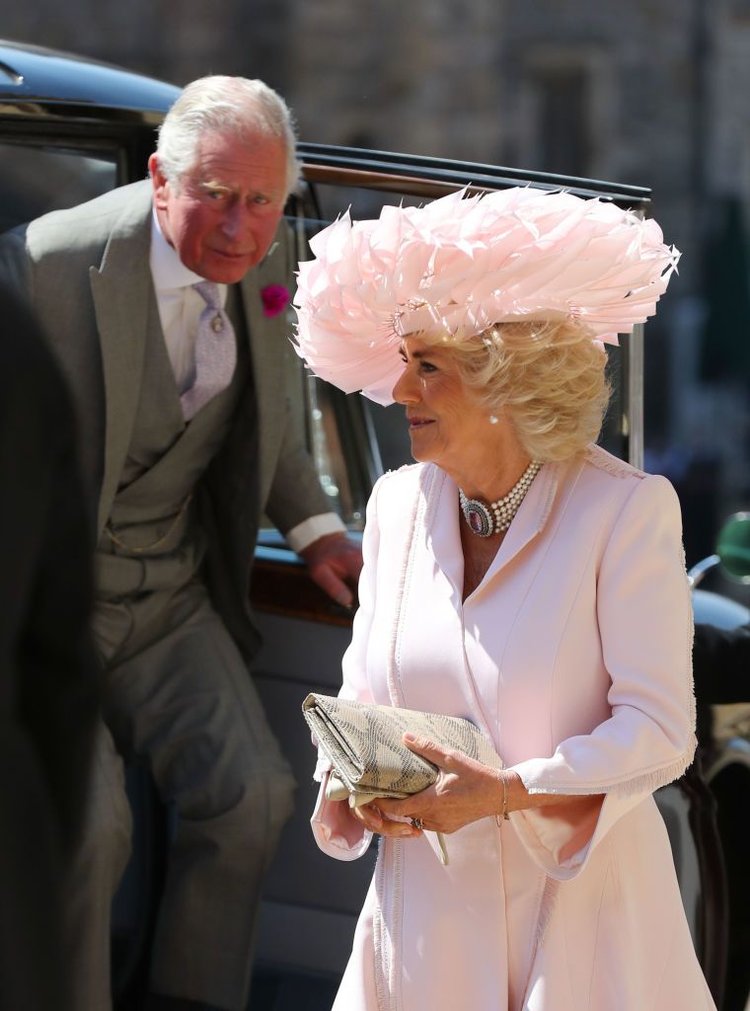 Turn Heads
All of the female guests wore some sort of hat, fascinator or hatinator at the Royal wedding, I'm betting they wouldn't have been allowed into the grounds without one. Not a single man did though.
On your next 'sortie', whether you go for a traditional wide-brimmed hat like the Queen or a refined fascinator with elegant netting like Kitty Spencer, make sure your choice is a style that balances your face shape, in a fabulous colour from your palette that avoids casting dreary shadows onto your face.
For the record, the moment it made an entrance, the Duchess of Cornwall's hat took centre stage for me. It was love at first sight. Actually, the D of C and I are quite similar, and I say that without my tongue in my cheek, unfortunately.
We both have long faces which can make us look like a horse and we have similar COOL colouring, so I'm just putting it out to the universe that I NEED that PHILIP TREACY Hat.
Hold That Bag
Handbags are a nightmare at weddings.
The reality is I need a suitcase to carry all the make-up that needs to be topped up that I would never normally wear.
The 2nd pair of shoes for when 'no-one is looking', a ton of bird-friendly, vegan-coloured confetti (great just in case I forgot to eat breakfast too), the 360° mirror because you can rarely trust a man to tell you if there's a problem with your hem, you've sunk into the grass and have muddy heels etc.
However out come these ditty little things that only holds 1 lipstick and a packet of tissues (to pass around of course).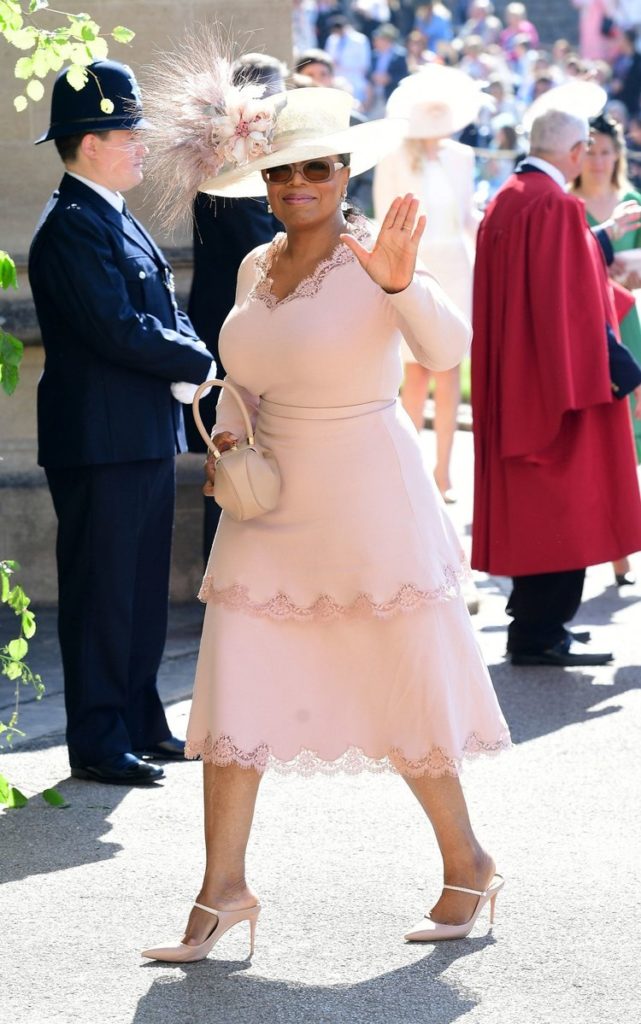 Oprah had a cute mini-football as a bag but there is a way to carry each style of handbag and I'm sure this isn't it!
This bag has a long enough handle that is should be carried in the crick of your elbow rather than holding the handle(s) or in this case holding the actual football.
However I will let this go because I am in love with her shoes. If I say anything about her Stella McCartney outfit I might get sued.
Find the perfect colours & styles for your perfect day
If you need help finding the perfect dress, hairstyle and accessories for a wedding or another fabulous event, I would love to help. Honestly.
Although I'm not really volunteering for the stress of finding you the perfect outfit during a Personal Shopping session, I'd love to give you all the tools you need to find perfection, forever and ever (amen).
I can do that with you if you come and see me for a Colour analysis, a Style consultation or the best option, a 'Signature Day' full of colour, style and a few hours of personal shopping.
I'm not promising that you will find THE outfit, but you will absolutely be sure that you will look amazing in everything you choose from then on. Prices for the 'Signature Day' on request.
Treat yourself to some 'me' time, organise a 'girls together' moment or come with your OH if he could do with a spruce up.
It's LOADS OF FUN. If you want more style information you can also read a handy guide I created about working out your own best colours and styles so you can start your own transformation.
Discover how to style yourself with confidence and find out how easy it is to look and feel wonderful, whatever your lifestyle.
Colourfully yours,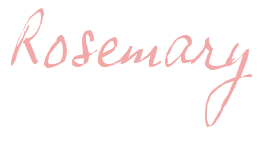 NB : I've used the photos from the Town and Country article and you can see more Here.
Want to hear what my gorgeous clients have said :
"The event went well and I was delighted with my suit.  I had lots of compliments."
Thank you so much for your patience and generosity, it's been a long time since I was so spoilt. "Eliette Colour, Style and Personal Shopping"