This isn't a post that anyone thought would be written but 2020 hasn't really shaped up to conform with the 21st Century has it? As clothes shops are reopening after lockdown, there'll be a new normal – at least for a while.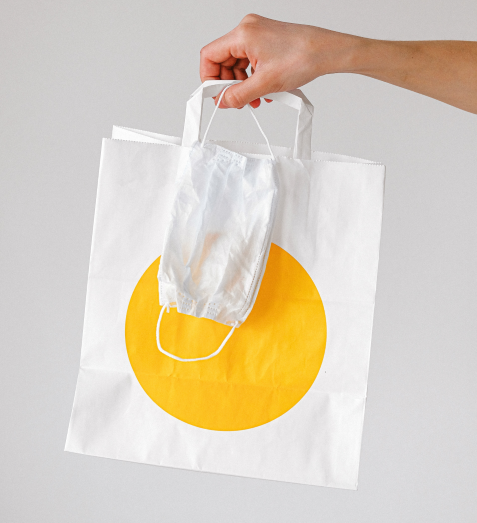 Leisurely browsing with the occasional coffee stop is something that we can but dream of. Instead, we'll be faced with the prospect of queuing as shops limit the number of customers at any one time, one-way systems, sanitiser stations, the loss of changing rooms and sometimes toilets and, of course, maintaining a strict social distance.
We've already seen an increased limit of €50 for contactless payments from our banks so we can avoid using cash. And then there is the question of returns; queues are likely to be much longer than we've ever experienced, which all makes for a very painful experience.
On the plus side, this may encourage people to buy less but better quality items. Sustainability could be a positive by-product of the pandemic. Anywhere other than France where they're not allowed outside of designated dates, you're likely to see huge, impromptu sales as retailers try to offload their disastrous spring/summer season.
And so you have a choice; do you adopt the smash and grab approach in your local budget store: a pair of shorts for a fiver, a swimsuit reduced by 80% and those faux-leather sandals that you'll 'bed in' on a buy one pair, get one free offer.
Or do you use this opportunity to invest in better quality items that will last for years to come? I'll always point you to the latter approach.
Use this opportunity to look at retailers that have always been slightly out of your reach, because the discounts on offer may well mean that you can afford to treat yourself now.
Before you part with your hard earned cash, however, check that the intended purchase will go with at least three other things in your wardrobe. If you have to buy 'around' the item to make an outfit, chances are it isn't a bargain.
It's going to be a lot more difficult to leisurely mooch around the aisles especially if you can't use the changing room facilities. So, do a little bit of homework before you set off. Take note of the style of clothes already in your wardrobe that you love and feel good in. So for example, if you are a curvy hourglass, this could be a fluid wrap dress in stretchy fabric, a deep v-neck top or soft jackets with waist definition. Make a note or take photos on your mobile to remind you to shop for similar styles. They're bound to be winners.
Another important point to consider is colour. It may seem obvious but before you make an unnecessary purchase, check in the mirror that it looks good on you. Hold the garment under your chin and have a look at what it does to your face. Your complexion should look clear and vibrant. OK, you'll likely be wearing a mask… but this IS the new post – lockdown normal!
And if you really don't know where to begin, start with me. I can help you to build a lifestyle and age-appropriate wardrobe that provides you with endless outfit opportunities. Discover more Here.

Of course, it's unlikely that you'll be able to test make-up at the cosmetics counter or indeed experience a makeover for the foreseeable future. But don't leave your purchases to chance. I can still suggest the best shades of make-up to complement your look.
Wishing everyone safe and happy shopping trips (as we try to get back to a little bit of normality).
If you want a little more information you can read a handy guide I created about working out your own best colours and styles so you can start your own transformation.
Do leave me a comment as Id love to hear from you.
Stylishly yours,