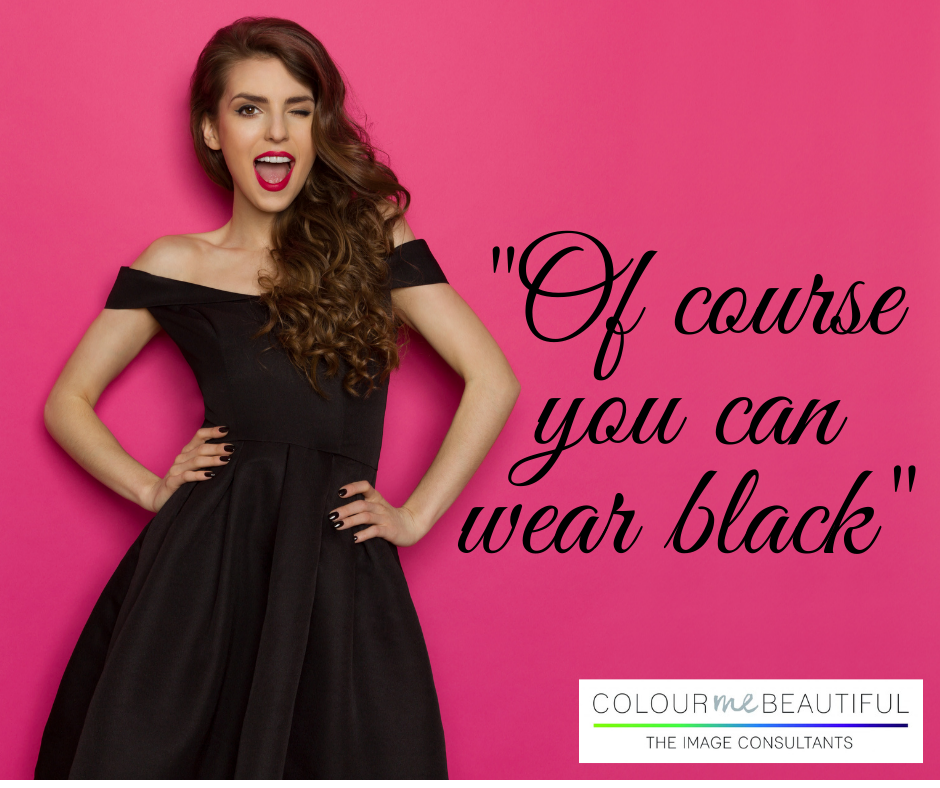 Colour Me Beautiful adopted a much more modern approach to colour analysis many years ago when they moved away from the seasonal (you're a Winter / Autumn) approach.
This means that I show you how to wear colour, rather than being prescriptive. So, yes, you can wear black and during a consultation with me I'll show you how.
Three out of our six colour palettes have black in them; Deeps, Cools and Clears.
But regardless of your palette, I'll always show you how to wear black during a colour analysis. That's because I understand that just because it may not be one of your most flattering colours, you may still want to wear it. I provide my clients with useful tips and tricks to make the most of this sometimes difficult colour.
Here's a flavour:
LIGHTS: Black is a really strong colour and may overwhelm your delicate look. Keep it away from your face and team with light, fresh shades from your palette such as Sky Blue.
DEEPS: A really great neutral that you can combine with either deep or light colours, or wear confidently on its own.
WARMS: Black can drain your natural golden glow, so add one of your best colours such as Coral.
COOLS: You look great in this shade, add some contrast if you plan to wear it with another colour. Hot Pink is a good option.
CLEARS: Your strong look means that you are able to carry black really well. Add a striking colour such as Apple Green to mix it up a little.
SOFTS: You may find that black casts unflattering shadows across your face, so keep an open neckline and add a muted colour such as Natural Beige. Choose a black fabric that absorbs the light, as this will soften it somewhat.
Why not treat yourself to a life-changing Colour Analysis?  It's a pick-me-up tonic and the benefits are immediate. You'll look at your wardrobe in a whole new way.
Colourfully yours,