The Summer holiday season is almost upon us and whilst I love nothing more than an excuse to jet off to the sun, sometimes the thought of getting everything ready beforehand can seem a little daunting.
I used to be that person who laid out practically my entire wardrobe to decide what to take and now I seem to have morphed into mentally believing I can find everything, to hand, ironed and still the right size about 6 hours before the flight….
However, with the phrase in mind 'do as I say, not as I do…' here are my top packing tips and tricks to ensure you have everything you need for your summer holiday whilst still meeting the luggage limit.
Keep to a capsule collection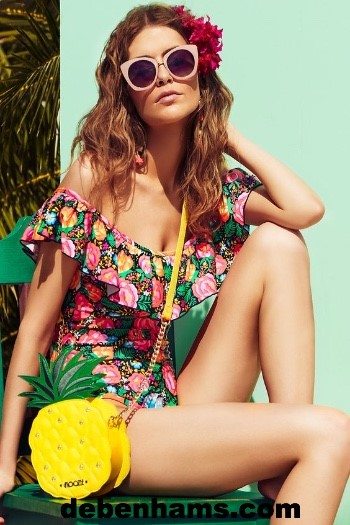 Astonishingly, some of us have a tendency to pack more clothes than we actually need!
In my couple this isn't actually my problem but it took years to stop being astounded that a man could need 6 pairs of shoes, 5 pairs of trousers and 5 shirts for a long weekend "just in case…"
And many more years before I could stop myself making comments… But honestly packing for a week was the equivalent of going on a Victorian Grand Tour!
To avoid packing too much, consider creating a capsule wardrobe for your holiday which will allow you to mix and match several items easily.
Colour code – stick to a few key colours from your palette and build your holiday wardrobe around them. Three colours is enough. Be sure to include neutral shades for pieces like trousers / skirts so they can be worn with multiple tops and accessories. So I might take navy blue as my neutral and everything else would either be another blue that went with navy or white or pink.
Lay out your shoes / accessories – and then halve them. Providing you have footwear that is suitable for any activities you'll be doing whilst you're away you really don't need to take multiple options, except if you are coming to Paris or other city breaks for your summer holiday where you can completely rationalise adding 2 pairs of comfortable flats and a pair of kitten heels as basics because your feet will complain if you don't keep ringing the changes.
With accessories, just a couple of key pieces will see you through. As for bags – one daytime/beach bag and one for the evening should suffice.
Pack like a Pro
A few simple tricks will ensure you maximise your suitcase space and ensure your clothes arrive in pristine condition…
Pack light clothes inside out to ensure they don't mark or pick-up stains in transit.
Roll your clothes rather than folding them – this saves space and reduces crinkles.
Utilise the space in your shoes by rolling smaller items like underwear and popping them inside.
Use ziplock bags to pack gadgets and toiletries. I always take my wash bag but pack it in numerous plastic bags, just in case of spillage but also because I always find a need for plastic bags!
Use packing cubes – they solve most of the above problems!
Be Practical
Thinking practically can make a huge difference when travelling.
Wear your heaviest items of clothing to travel. That way you can snuggle up on the plane, which is often cold, as well as save precious space in your suitcase.
Invest in lightweight luggage so you can use as much of your baggage allowance for clothes as possible.
Take a carry-on with a few items (all less than 100mg of course) to freshen up with and a change of underwear so you're feeling fabulous when you reach your destination.
I've arrived for my summer holiday days before my luggage before now so I also make sure I add a change of clothes and my bikini.
Slip-on shoes offer ease at airport security and comfort as most of us will experience a little swelling while in-flight and if you are not wearing flight compression socks take a pair of socks to keep your ankles warm.
My packing failing is actually that I seriously under-pack. I take the absolute minimum then I have loads of space left in my suitcase into which I throw a couple of things, not in any way thought out and normally not at all helpful but has the advantage of using up the space and stopping arguments about how I could 'just pop in a couple of extra pairs of His shorts in MY suitcase…'
How about you, how do you pack?
Want more information before hitting the beach? Read How to keep cool by the pool in the best swimwear for you.
Need some help creating your Summer Holiday Style?
A one-to-one style consultation with me will tell you everything you need to know about how to wear different patterns, styles and fabrics to suit your body shape and to wow everyone this Summer and beyond. Discover how to style yourself with self-confidence and find out how easy it is to look and feel wonderful.
Why not get in touch today to book in for a Colour, Style or full image makeover session or simply CLICK HERE to book a FREE Skype consultation with me.
If you want some more information you can also read a handy guide I created about working out your own best colours and styles so you can start your own transformation.
Do leave me a comment as I would love to hear what you have to say.
Stylishly yours,