No matter your age, dress size or clothing budget, how you wear your clothes and the attitude you adopt really is everything.
Adopt a positive, fun and optimistic attitude and this will flow through to your style and best of all, a change of attitude to how you dress doesn't cost a penny!
"Attitude is Everything" – Diane von Furstenburg
Isn't it just?
However, I will just quibble a little with this statement, because I honestly believe it's difficult to adopt a 'real' attitude without the confidence that goes with.
Attitude and confidence
And real confidence comes from understanding exactly what suits you and knowing that certain clothing styles and colours will make you look and feel even more wonderful than others.
So that when you grab the first thing from your wardrobe, whether it's new or you've had it for years, you are also putting on that confident attitude.
If I wanted to I could take up the next 20 paragraphs in listing everything about my body, hair, clothes… that isn't 'perfect'. 
However, I'm saved by my attitude – and my attitude is based entirely on the belief that I know exactly who I am and how to dress my not-perfect body.
Therefore, when I walk out of the door into the streets of central Paris I'm dressed in the best styles and colours for me so I feel great whether I'm wearing jeans and a t-shirt (most of the time) or I'm going to a cocktail party.
Your turn
How about you? I'd love to know how you got your attitude.
If you want some more information you can also read a handy guide I created about working out your best colours and styles so you can start your own transformation.
Or get in touch today to Book Now for colour, style or full image makeover session. Discover how to style yourself with confidence and find out how easy it is to look and feel wonderful, whatever your lifestyle.
Stylishly yours,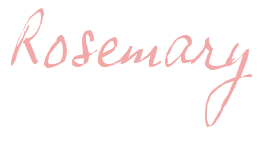 Want to hear what my gorgeous clients have said :
"I wanted to update my style and my look so naturally I turned to Rosemary. She provided me with a comprehensive style guide and lots of useful information that I am now putting into practice (and which people are noticing)!
I spent a wonderful afternoon with her and she helped me consider so many more options and expand my thinking.
If you are looking for a style re-think or even a makeover, I cannot recommend Rosemary highly enough. She is not only incredibly qualified and gifted in the field of style and image, she is also a really lovely lady with whom to spend time."
Yvonne